This week, many countries in Southeast Asia celebrate their new year. Just like the Christian celebrating Christmas and the Hindu celebrating deepavali. During this period, they tidy their homes and put up some lighting to welcome the new year. For those who enjoy living in private homes, they would normally light up their backyard with string light while those who live in the apartment or condo, they may light up their veranda.People would then gather together in a small village's back year and party throughout the evening. Through this inspiration, let's explore the cheap outdoor party lighting ideas you can implement right now.
1- Awesome string light around fire pit
In case your house has a fire pit at your backyard, consider putting up the string light around the pit area. Light them up and remember to add the cozy chairs around it. To finish the touch, remember to bring along some mash mellow 🙂
Buy these outdoor party lights here
2- Outdoor string light under a tree
You have a tree at your backyard? How about lighting them up and put up a seating area with table. It is ideal for small party as some of you could sit down for a chit chat under the light up tree.
The photo below was taken from New York Time in 2013 where it showcases a home of a couple where it was designed to look like an exclusive nightclub.
Get these outdoor string lights NOW
3- Battery Powered String Light in a bottle
If you're a big fan of a simple party, considering getting one of these battery powered string light in a bottle. with a dozen of these, you can in fact light them up and place them on the table. Alternatively you can place them to serve as the pathway leading to your party area.
Cheapest battery powered light for bottle
4- Pathway Lighting for Party
Sometime, it is good idea to put some effort into the peaceful party. Look at this diy fire pit and evening lighting idea, you will see how one can transform a dull backyard to an interesting evening getaway. If you are planning the party, why not adding two wireless speakers to each sides of the fire pit. Likewise, to make the evening more pleasant, remember to install the LED path lighting to illuminate the way. Oh yes, if you live in an area that is infested by mosquito, how about adding some citronella torch to repel those bad ass mosquito that could destroy your party evening.
Where to buy these pathway light cheap: https://cheapestoutdoorlighting.com
5- Backyard lighting on the wall
Do you have a house that is enclosed with the wall, why not adding some lighting on top of these wall just like the photo below:
6- Rustic Hanging Mason Jar Candle Holders
For the classic look, hanging these mason jar candle holders onto the tree. These Mason jar remind me of my childhood memory. During the Halloween season my mom would light up the candles and place them into these jars. They look amazing! That is why for the evening subtle party, consider placing these mason jar candle holders – see below for the idea: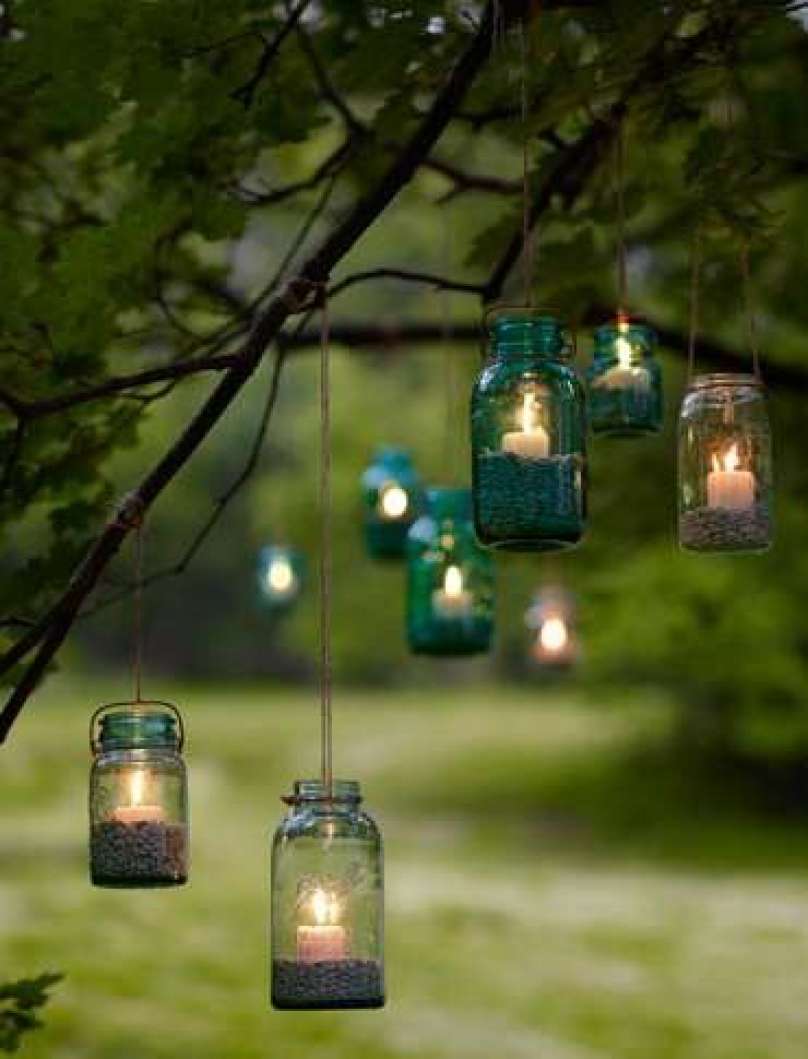 For an added decorated mason jar, try this DIY to add a festive season effect. Or try this if you want to make a interior mason jar lighting instead.
7- outdoor lighting under a kiosk
This is for those who has an outdoor structure where one can sit or enjoy the evening. Just see the photo below for the idea.
8- outdoor pathway lighting with rope light
Rope light or also known as tube light is an amazing lighting for an outdoor project. They are amazing for three reasons: weather resistant, energy efficiency and incredibly easy to install. Just take a look at this DIY project to get an idea yourself.
Final thought
I count myself lucky to have a backyard. I usually light up during the Christmas every year. However, this year, I definitely want to decor more beautifully using one of these cheap method. And well, in case you have a bigger event, perhaps try to rent the party lighting from the specialist instead.