Undoubtedly, Switzerland is a quiet and clean country. Many Swiss people I know loves skiing in winter and hiking in other seasons. For that, they need a place to stay. To avoid costly hotel stays, visitors or the local would opt for the mountain chalet for the whole season. Unlike any other houses, swiss chalet is unique thanks to its decorating style, which you would learn to appreciate at the end of this post.
Let's me tell you wh, mountain house in switzerland is awesome through this post.
What is Swiss Chalet, anyway?
For those who does not know, Swiss chalet or mountain chalet is a type of housing native to Alpine region of Europe. They are made almost entirely of wood and at time are painted dark black color. Their roofs are usually slopped gently to allow the snow to flow through during winter period. The front of the ancient chalet, one would notice the all year round colourful flower hanging out from the veranda. One would also notice the Swiss's flag or the swiss's canton flags in front of their chalet during some months.
Traditionally, the chalet were used entirely by farmers during summer months when they brought their cattle up to the mountain for the better grass. The farmers would then live in the chalet during the summer month to produce butter and cheese. They would then return back to their village in the lower land during winter period.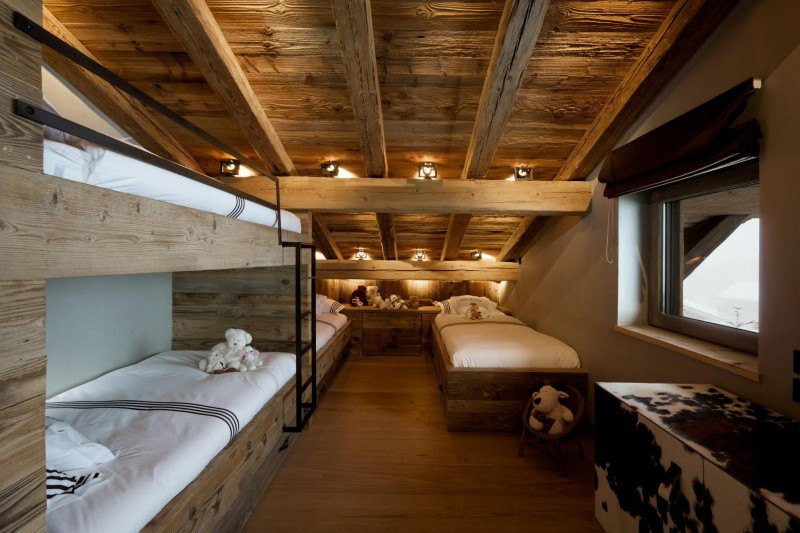 With the increasing in alpine tourism industry, mountain chalet has turn itself into a tourist attraction. We would see many Asian tourists flock to the mountain resorts such as Zermatt or Grindelwald to have a flavour of swiss chalet living style.
Nowadays though, the word chalet is not only being used for mountain wooden house in Europe but also used to refer to weekend houses or resort hotel. For example, in Singapore one would find a weekend chalet for rent.
Swiss Chalet Interior Design Style
It is undeniable that Swiss décor are very detailed oriented. This is evidence by their famous watch maker industry which is renown for its ultra precise and ultra luxury watches with super expensive pieces. Likewise, we would expect only the best in the interior décor in any swiss chalet. Below are some elements one can expect to see in any traditional mountain chalet interiors:
Wood. Indeed, one would notice immediately the wooden furniture such as tables, chairs, beam structure, armoires, cabinets and cupboards as well as wooden chest for storing clothes and personal belonging . I had in fact witnessed myself during my holiday in Zermatt: all the furniture are made from pine tree.
Fireplace. The living room chalet fireplace in the traditional mountain living is meant to keep the habitant warm while be a central place where the whole family can join for an evening gathering.
Rag Rugs are usually seen in the living room placed quietly on the floor. One can easily say that the rugs are not necessary found in the chalet but also in the Swiss modern home.
Conclusion Remark
Every country has its unique culture. Likewise, Switzerland has her own unique culture as can be seen in the rural chalet interior decorating style. I hope you had enjoyed looking at these traditional vintage interior design style as much as I have written them.
Other Resource: