Japanese garden is traditional garden aims at elevating the ideal nature of a far away place. It introduces zen to any home and bring harmony to its surrounding. The garden usually does not use any artificial ornament. Instead, it brings both the Japanese philosophy and aesthetic to highlight the natural beauty.
In this ultimate guide to Japanese Garden, I will attempt to hand pick 99 best garden ideas (through quality photo) for small space that will bring harmony to your existing home. In order to make it easy to understand the concept, I will divide this post into 7 sections that describe all the seven elements of a Japanese Garden, namely: Water, Koi Fish, Rock & Sand, garden bridges, stone lantern, garden fence and flowers & trees.
A- Water
Water is one of the natural element in the world. For this reason, water is an indispensable element in Japanese garden. It serves as a Yin and Yang and will bring good fortune if properly set up. As such, always think of setting up a water element in your design no matter how small your garden is.
B- Koi Fish
Koi fish is a well known fish. Have you ever visit a Japanese Garden without seeing the koi fish? In fact, the fish is used as a decorative element in conjunction with the water elements. According to Wikipedia, the use of fish in the garden is rooted back to China more than a thousand years ago i.e. goldfish was introduced to Japan in the 16th century.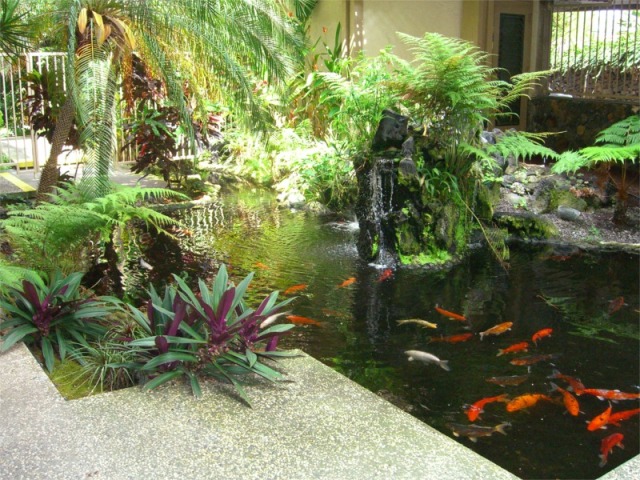 It is important though to understand that if you decide to implement the water pond element with koi fish in your zen style garden, you need to monitor the pH, alkalinity, nitrates, salinity, hardness,chlorine, , copper, phosphates and oxygen levels in your koi pond water. I also suggest to use the automatic fish food feeder in your residential Japanese style garden.
C- Rock & Sand
Rock represents mountain while white sand represents sea. This is yet another yin and yang principle. The Japanese garden is a miniature and idealized view of nature and hence no matter how small space your garden is, you could always implement this style of garden.
The hard rock can be categorized into vertical rock or flat. The vertical rough rock is used to represent mountain while the flat ones serve as stepping stones. Do not use any colourful rock as it will reduce the subtleness of the natural rock. To create an harmony scene, we usually find a combination of odd number of rock i.e. 3, 5 or 7. When the three rocks formation is used, the tallest represents heaven, the shortest represents earth while the medium refers to human being.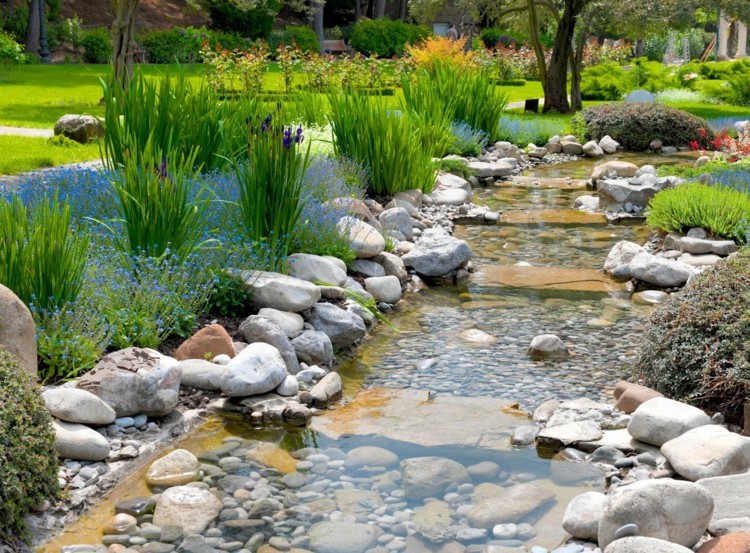 The sands to be used are usually white as they represent purity. The sands can be considered as water or cloud in this case.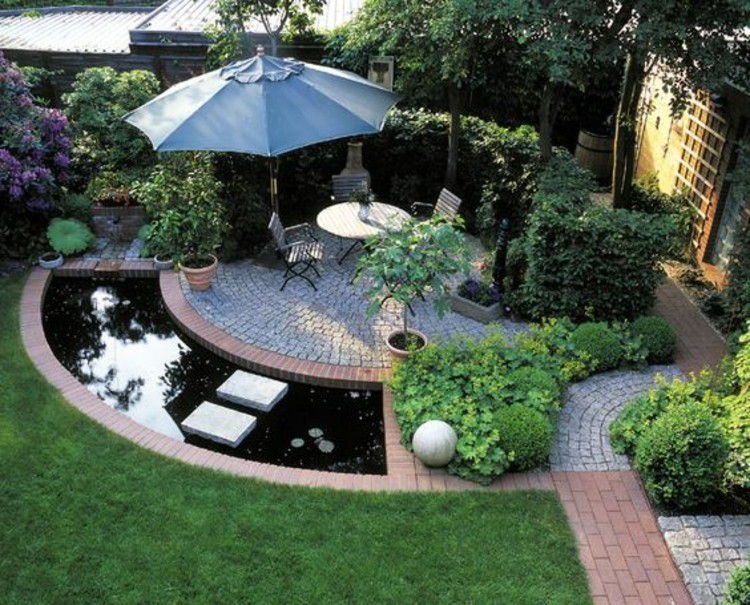 D- garden bridges
The bridge could be made from wood or stone. It represents a staircase to paradise and immortality. Depending on how you like the bridge to be, it could be flat or arched. One thing to note is that the bridge is a symbolic bridge and even your garden does not have any water element to serve as pond or waterfall, you can still install the garden bridge.
E- Stone Lantern
Toro is a traditional Japanese lantern. It is usually made of rough stone, metal or wood. Traditionally Toro is used mostly in Buddhist temples to illuminate the pathway.
There are two type of Toro. The first is called tsuri-doro which literally mean hanging lantern. The second is called dai-doro or platform lantern. It is the later that is used mostly in garden design. It is important to select the authentic hand-carved natural granite stone lantern that will add a tranquillity touch to your outdoor oasis.
F- Garden Fence
If you have been to Japan before, you would understand the importance of bamboo fence in Japanese society. But if you have not been physically to Japan, fret not because you could visit your neighbourhood's Japanese restaurant and observe how the fence is being used.
Likewise, garden fence is being used in many residential outdoor garden. The use of the fence could serve two purposes. The first is to separate the space and follow the principle of asymmetry but balanced. The second purpose is to give a sense of privacy yet achieving the tranquillity principle of Japanese design.

G- Tree and Flower
Without a doubt, tree and flowers are being used in Japanese style garden. Nothing is left to chance and trees and flowers are used based on aesthetic principles. Either they are used to cover the undesirable sight or served as a backdrop. Most importantly they are widely used to have a picturesque scene just like in the post card.
It is important to understand the maintenance requirement for your zen garden's tree and flower so that it remains flourishing inja years to come. For example, you need to understand. One frequently asked question that I received is whether we can setup a Japanese garden in a non-Asian climate. The good news is yes! as a matter of facts many countries have already built as part of their urban planning, the zen garden. There is no doubt, though, those countries may not necessary have the tree or flowers originating from Japan but they have selected the appropriate flowers to make it work.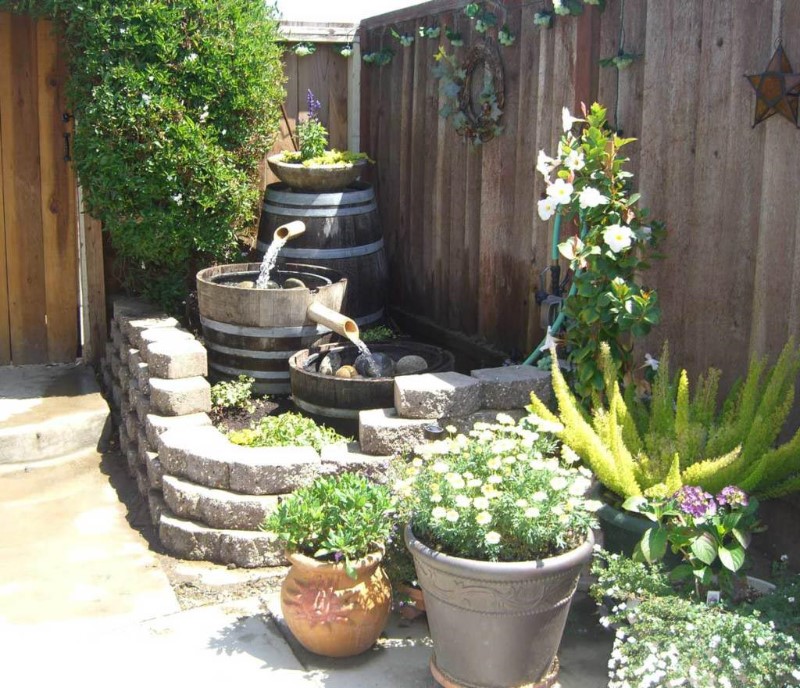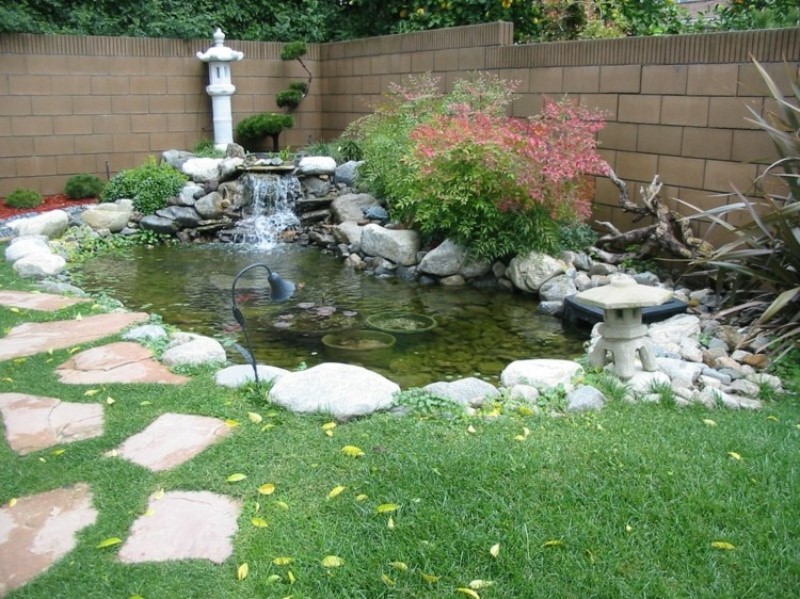 Below are some trees that you could used in your Japanese style garden:
Cherry Tree (very beautiful when its flower blossoms)
Japanese maple tree (could be too large for small garden though)
Bamboo (this is an evergreen tree that you can plant in your zen garden)

Bonus Photo of Zen Garden for small residential space:
Now that you have seen all 77 awesome Japanese garden ideas for small spaces that will bring Zen to Your Home, it is time to enjoy additional bonus photos around the world. Be inspired!
Resources:
Did you like this article?
Share it on any of the social media channels below to give us your vote.
Your feedback helps us improve