Making and internal and external space more attractive and functionally useful for its residents is in human nature. He or she gets attracted to stylish lounges and a beautiful backyard. All of us unconsciously look forward to adding new stuff and details to our home which could make our home look beautiful and elegant. Home decor is not only having a fancy tile flooring or having lavish furniture or luxury bed. Every single detail counts. From the choice of cushion covers to small decoration pieces to indoor planters, everything should be on point.
When it comes to home décor, the first thing that comes in our mind is the "expense". No doubt, a person saves every single penny to make his/her dream house. Even if you get your dream architecture and finishing of the house, the next thing that is important is décor. To make your house a home you need to add details that could bring a pleasant feeling to your eyes and refreshment to your mind.
A lifeless interior with only furniture and some shelves is never enough. You need to add something color full, something interesting, and something that could bring you to life. An expensive vase or a looking mirror with a gold plated frame is not everything you need to make your home look stylish. You can use simple and low budget things to create a beautiful living space. One thing that could bring a new look to your home while remaining budget-friendly is indoor planters.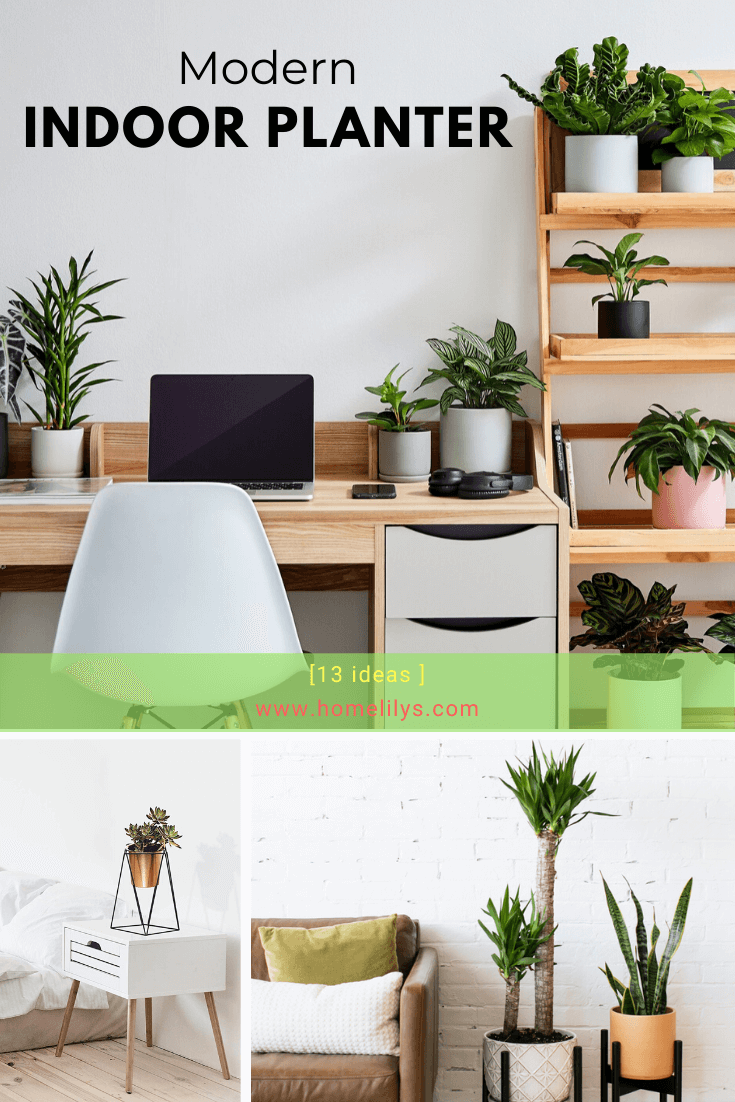 Here we look to some simple and cheap modern planter:
White Pot Plants
If your home isn't blessed with tons of square footage, that doesn't mean you can't flex your green thumb. If you are looking for a minimal and modish indoor décor, then these small planters are the best choice. These planters are usually made up of plastic or ceramic and come in different shapes and sizes. Here are a few options that you can choose from.
You can place these planters in bookshelves, on coffee tables, side tables, or even in the bathroom.
Hanging Planters
Instead of placing planters on to a flat surface, you can also hang them. The market is full of hanging planters and thus picking some for your living space is not a tough task. Here we will help you decide what type of hanging planters you should get for your living space.
Metal Rod Hanging Planter
This hanging planter comes with a metal rod. The hooks of the metal frame get attached to the wall with screws and are thus different from traditional hooks. The pot is made up of ceramic and is best to grow small indoor plants. It is suggested to add gravel and pebbles to the bottom of the planter for drainage purposes. For your ease, you can grow succulents like Cactus in these planters.
Umbra Trigg Hanging Planter
This geometric wall vessel planter can be used to enhance your home décor, office décor, bathroom décor, and more! For larger spaces, combine multiple Trigg vessels to create a truly unique display.
Hanging Leaf Vines
Hanging leaf vines can be another aesthetic addition to your home décor. The easily available and affordable leaf vines bring the extra out of your ordinary corners of the home.
You might have been bored with your boring white wall and would need to bring some change to it. Well, you can create an Insta perfect backdrop just using some fake vines. All you need to do is to take fake wines of different lengths and hang them to a plain white wall. Place a white circle chair made up of steel next to this wall and your new photobooth is ready. Adding strands of fairy lights with these fake vines will instantly enhance the look of your refurbished corner.
Not only in the corner of the home, but you can also hang these fake vines with the rod of your bath curtain in your bathroom for a nice and calming décor.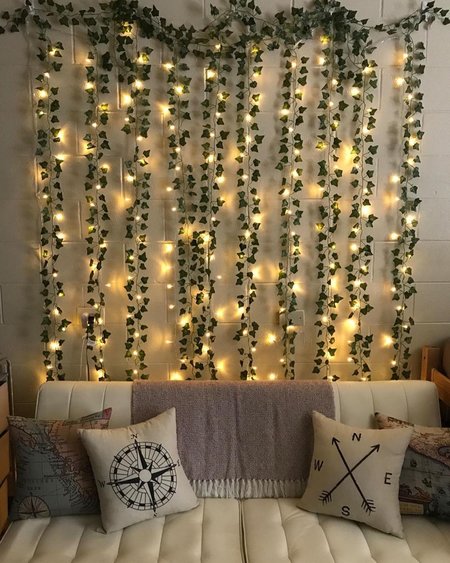 Planter Stands
Give your blooming beauties a display space that is just as lovely as they are with these must-have plant stands! A perfect pick for traditional ensembles, it will elevate your flowers or plants without distracting.
Bamboo Indoor Plant Stand
Made from 100% bamboo – sustainable and beautiful, this plant stand perfectly snugs a 10″ planter, keeping your plants off the floor. It's exactly what you're looking for. The beautiful and modern design of this bamboo stand will give your room an instantly slick, modern and midcentury look. This stand perfectly pairs with all the green leafy plants or flower plants. It'll look great in your living room, or just a corner.
This stand comes in a very sleek packing and is very easy to put together. The stand has two parts and is assembled together forming an X. Only a screw is needed to put both the parts together. Despite the simple design, this stand can safely hold your small plants.
Sunlit Set of 2 Geometric Mini Iron Tabletop Plant Stands
Gone are the times when everything had curves. Now is the time for sharp edges and you also need to add some sharp edges to your home décor. This decorative planter stand made with high-quality materials stands with elegance and is a stylish approach to displaying your plants. The stand has a square-shaped base that can be customized or designed in a variety of ways.
The copper color of the planters can be blended seamlessly with the décor of any indoor environment or outdoor environment. They are ideal for bedrooms, bathrooms, kitchens, and other living spaces. Outdoors are better suited as table centerpieces or for use in patio areas.
DIY Planters
Are you tired of the same colored, boring flowerpots in your interior or garden?
If you already love gardening and have small pots present at your home, then you can make hand-painted indoor planters for your living place yourself. This activity would be fun and would also cost you very little money.
All you need for this purpose is:
Traditional mud pots or white plastic pots (you can buy from here at Amazon)
Paintbrushes
Here are some easy designs that you can paint yourself:
Italian style flower painting
Just grab some thick and thin paintbrushes and some contrasting colors like yellow, orange, and grass green. Use a thick paintbrush to make the petals of the flowers (do not draw, just dab the paintbrush to make petals). Then use a comparatively thin brush to draw the leaves and Tadaaa! Your very own hand-painted planter is ready to rock your coffee table.
Egyptian Style Animal Painting
Inspired by the ancient drawings found in the pyramids of Giza, you can paint some easy animal drawings along with geometric patterns on your pots. Filled with ancient symbols of well-being, health, and prosperity, these pots would bring your home an aesthetic feel. You can place these pots in the kitchen window or on a plain marble slab.
Bohemian Style Home Decor
Bali is famous for its greenery and natural beauty. There you see green plants everywhere outside, and even inside your stay place. They decorate their resorts with green planters. If you have been to Bali, or keeps an intention to visit Bali, then this décor is totally for you. You can convert your boring apartment into a Bohemian Style apartment with just a little effort applied.
To give your apartment a new bohemian look, you must invest in planters. If you need to give yourself a chill pill, then you should go for planters with artificial plants but if you already love plants enough, then living plants are also okay for you.
Bohemian Style Balcony
Take traditional mud pots and paint them with zig-zag and dotted patterns using Acrylic paints. Place and hang these planters in your balcony. Also place rattan tables and chairs with colorful cushions on them in your balcony. Don't forget to place a small artificial planter with artificial plant on the tabletop. Here you go, your new Insta photo area is ready.
Bohemian Style Indoor Corner
Buy some dream catchers or make one yourself. You can find infinite videos on YouTube that could guide you "how to make dream catchers". Hang these dream catchers on the wall with framed Tumblr photos. Don't forget to paint the wall with a light and bright color like light pink, light yellow or light blue, so that your bohemian corner could come to life and reflects its true origin. Spread a bright colored rug on the floor and place wicker made bookshelf on it, in the corner. Also place a small wicker chair beside the bookshelf. D
Don't forget to add the most important thing i.e. some artificial planters with plants like a palm tree, or random bushes beside the chair. You can also place small artificial planters on the bookshelf as well. Your new favorite reading place is ready with bohemian vibes.
That is it for now and shall you need additional artificial plants for your indoor decor, then check out these 9 awesome plants that you can buy right now on Amazon.
Last update on 2023-12-04 / Affiliate links / Images from Amazon Product Advertising API