The Oborain prefab shower for outdoor used
As of Feb 2018, when I check their website oborain, it is unfortunately down. This means the company is no longer in business, sadly. Nevertheless, this post is still here as a good reminder of how company can create such a creative prefab for outdoor shower.
Since the closure of oborain website, people still ask me where to find its price. Sadly, I do not really know where as well. Having said that, there are still many outdoor shower diy project out there that you can tap into. Consider googling here.
Oborain Outdoor Shower
Have a private outdoor shower is a dream for many people, is no exception. How to realize the dream of it ? Obrain that comes with Solo and Piccolo Outdoor Shower has a solution. Not only is my personal room you also have to take a luxury shower you.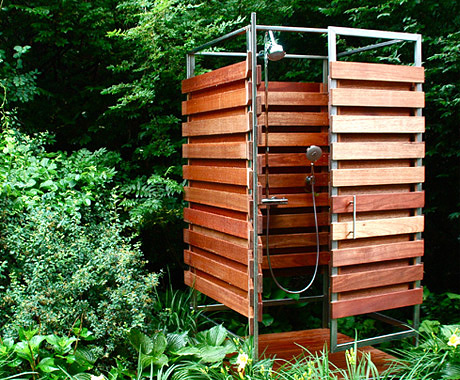 Oborain Solo and Piccolo Outdoor Shower will bring a feeling of being enclosed and protected, yet open and connected with the elements of nature. With a Cascade of water at the temperature of the luxury perfectly from toiletries engineered beautifully. Use hardwood is outstanding with a combination of stainless steel hand-crafted into cocoons envelop pleasure made entirely perfect.