When I moved into my current house last two years, I did not have a single key holder. During winter 2016, my long distant relative came for a visit for which he had stayed over two weeks with me.
One Saturday morning, I brought him to a flea market in the neighbourhood. Chanced upon a vintage duck design key holder, he decided to get that for me as he had noticed I did not have any. Since then, I feel so complete with this key holder for my wall near to the entrance door. In fact, not only it is aesthetically appealing, it is very useful as well. It has four hooks to hold both my wife and my keys. Besides, it has a slot for letters and envelops – very useful for late bills that are coming in :).
Because of this experience, I thought of sharing with you this 67 DIY wooden key holder ideas for your entrance wall that you can do it yourself. Simple yet fun and effective way on how to make mail and key holder for wall at home.
1- Four colourful key holders – DIY
Very simple concept and you can do this yourself. Hope you will enjoy this colourful key holders. Very easy and you will need to pain the wooden block as well.
2- A single key holder for wall
You definitely can do it yourself here. Check this four images showing you exactly how this key holder is created.
3- Classic key holder just like in the Hotel
You will need a large plank of wood and six hooks. The rest is pretty self explanatory.
4- Multipurpose wooden key holder with magnet
This is very aesthetically appealing wall-mounted key holder. It may not be easier for you to diy but with some carpentry skill, you definitely could make one just like this picture.
5- Honeycomb magnetic wooden key holder for wall
6- Simple sky blue wooden key holder
7- Big Key Wooden key holder design
8- Family words Key Holder
9- Couple wooden key holder
I find this couple wooden key holder very cute. It is definitely ideal for a couple. One key holder for him and one key for her. You can get this one custom made at the carpenter for sure.
Sigh, it reminds me of when I first got married. Couple life was great and now with two kids, life is not as simple as before. of course I am happy with kids but I can no longer afford to have this type of key holder design any more.
10- Vintage duck key holder design
11- Rough wooden plank key holder
12- Hidden Wardrobe key holder design
13- Wooden key holder with envelope placeholder
14- wooden key holder with iPhone placeholder
15- Country Rustic Wooden Key holder with metal mesh
16- Magnetic rail wooden key holder
17- Key Hooks Mail Storage Coat Hooks
18- cute miniature doll key holder
19- Cute wooden ball key holder
20- Nice concept aluminium keyholder
21- Three layer wooden key holder
You will need carpenter to help you with this one. Or unless you have all the tool needed, then you can diy too.
22- key holder with hooks for coat

23- large key holder with cloat hanger and envelop holder
This Entryway Coat Rack Mail Storage and Key Hooks Custom Handmade is for sale on Amazon. It is perfect for key, coat, backpack, envelop, letters and flower vase. You can select different type of wood design before making your purchase.
Size:
Width: 4 inches
Height: 11.25 inches
Length: 24 inches
24- Wooden plank key holder
25- wooden key holder with cloat hanger
26- Sweethome key holder
27- Golden elephant key holder design
28- Envelope holders with key rack organizer
29- Movemeber Key Holder
Movember is a movement to raise awareness of men's health including men suicide and prostate cancer. During the month of November, men would keep and grows their moustaches. It is based on this annual event, that this key holders is built. Its unique design is very nice concept for a real men house.
30- Indian wooden key rack with three hooks
31- Wallmounted keyholder for sweethome
32- Wall-mounted Photo frame key holder design idea
I find this photo frame key holder unique. From a first instance, this wall-mounted photo-frame key holder looks just like any 3D photo frame. Interestingly, it also serves as a key holder with four hooks. This is the answer to a question "how to make a key holder out of a picture frame". Enjoy!
33- Vintage mail holder key rack
34- Large wallmounted key holder with 8 hooks
35- japanese inspired key hanger
36- key rack holder wall organizer
This wall mounted mail sorter key hook organizer rack is made entirely from wood. As you can see from the photo here, it wont be difficult to make one. It has 8 holds to place various items from mail/letters/envelops to your mobile phones. The top of this wall mounted mail organizer and key rack is a flat surface where you can place any decorative items e.g. candle jar for instance.
37- captain key styled wood & metal wall mounted key holder
38- old country house paint key rack
39- cute happy miniature doll sweet home key holder
40- wall art 3 hook key rack for wall
41- white ceramic hand key holder for wall with wooden plank
A nice concept with wooden plank and simple key holder concept. But sorry! It is a bit creepy for me !
42- Tyre valve design key rack
This is very unique design for a key rack. It has 5 different type of tyre valves. Well it does the work and would go well for any interior designed with cars related theme, I would say.
43- car garage key holder creative design
I like this design very much. This is dedicated for my six year old boy. He is crazy about car and this garage key box holder design idea is perfect for him. Not very hard as a DIY concept but you will need some special tool for this.
44- rustic building diy key holder by kokoblog
These wooden plank are tailored and painted into three building bloc. Very creative way to decorate a rack for cloth or car keys.
45- trendy skywood wenge keyholder
This trendy skywood wenge key racks has five nails where you can hang more than 10 keys. An ideal gift for any home owner.
46- simple diy white key holder on wooden plank
47- wine cork easy diy key holder
This is super easy diy project for a key holder, you simply need several wine corks, a wooden plank, some glue and several pins to hold the key. And voila the result:
48- Kitchen Utensil Key Rack
49- fireman axe key holder
50- Wooden Frame key holder easy diy
Best advice here is to get the carpenter to create the wooden frame for you, then you could add the four hooks to the frame itself to create this beautiful wooden frame key holder.
51- triangular bookshelf with key holder for wall
Not difficult to do at all, You will need three plank and three hooks and some skill to put this triangular bookshelf with key holder for wall. Impress your guest with this cool diy wooden triangular bookshelf.
52- diy chalkboard key holder for wall
Imagine you could let your guest leave a great note on your wall mounted key holder, how cool would that be? Learn to do this yourself with the design below.
53- simple diy key wooden design
54- Knitted key holder for wall
55- Pellet wooden key rack DIY
This is a super easy to do it yourself key holder for wall. You need fie pallet of woods and then several nails and simply look at the photo below to DIY key rack for wall.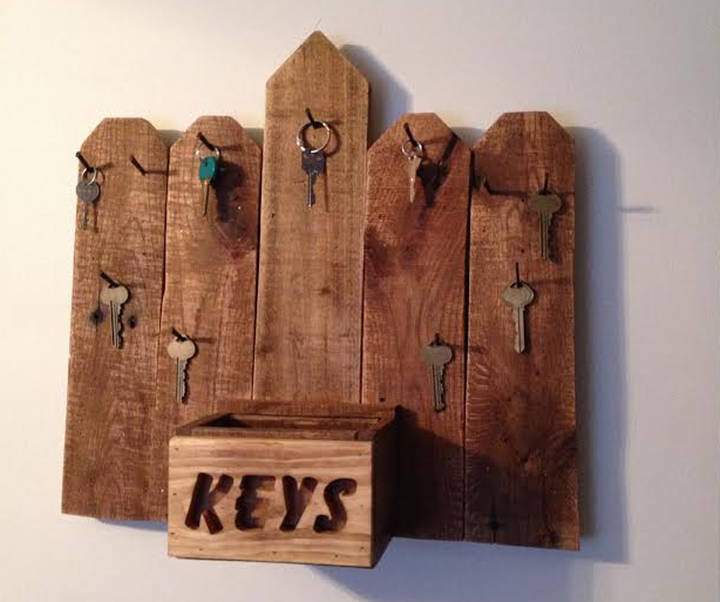 56- heart shape wooden key rack with place for mail
Beside serving as a key organizer, this item is a key rack with mail holder. It is perfect for placing to your entrance's hallway.

57- simple wooden pallet key holder for wall
This homemade wooden key rack are made of four recycle planks of wood. Seriously, nothing is more easier than this diy item.
58- old wood key rack rustic style
59- Pellet key rack with shelf
60- couple key holder for wall DIY
61-DIY whiteboard key holder with shelf
62- wine cork key holder for wall
Do not throw your wine cork away. You can easily recycle it to be a key holder for your wall. With such an easy process of DIY, you can created multiple of this key holder for your friends and guest. Recycle your old wine cork today and save the world with me.
63- DIY arrow design key rack
Yet another good concept of a key rack for wall with an easy DIY process. I find this arrow design key rack pretty and functional, it gives a sense of direction when one enter the house. From feng shui concept, it also can help to direct good Qi towards the inner of the house.
64- wooden key rack with a country home painting
65-home made wooden plank key rack
If your house is designed with a classic look, this home made key rack is perfect for you. You can easily take any old wooden plank and make it as a key rack and put it on your wall. It is unique and you cannot buy it off from any shop.
66- beautiful classic design wooden key rack
67- block of oak magnetic key rack
And voila, 67 inspired ideas for a DIY key holder for wall. Although some designs are easy to do, others require more tools and more efforts.
If you find this post inspire your DIY process, please help spread the words by hitting the share it button here.
68- wall clock with letter rack and key holder
This wall clock has a built in compartment. While it is not a diy project, it is a cool vintage items to acquire for your resident.